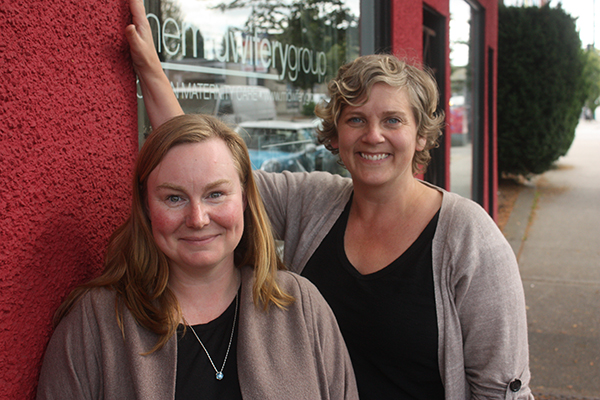 Erin Cederberg & Jennifer Lindberg AKA Jerin
OFFICE MANAGERS
Jennifer Lindberg (the ĎJEí of JERIN)
Iím so happy to partner with Erin to support this amazing group women! I come to the Midwifery Group after a dynamic career as a consulting archaeologist and a decade at home raising my family and volunteering in my East Vancouver neighbourhood. Iíve attended school long enough that to me, ĎNew Yearsí is always in September, not January. I have a thing for stationary, and the Samoan National Rugby Team. When Iím not taking care of business in the Office, Iím taking care of my home, my boyfriend/husband and my great kids; all three caught by midwives!

Erin Cederberg (the ĎRINí of JERIN) Iím delighted to be back at The Midwifery Group after 12 years and 3 babies, all helped into this world by TMG midwives! Working with the midwives and my amazing work partner Jen, as well as meeting all the lovely families who are coming through our doors is truly a pleasure. Over the past 12 years, I have been involved with pregnancy and birth as a doula and teaching prenatal classes with Dancing Star Birth. Along with that Iíve been busy raising my children, walking the dog and doing a whole lot of laundry!